Microbial Ecology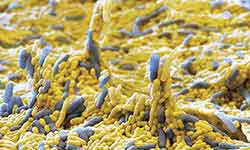 Submit Abstract
Register Now
Microbial ecology (or environmental microbiology) is the ecology of microorganisms: their relationship with one another and with their environment. It concerns the three major domains of life—Eukaryota, Archaea, and Bacteria—as well as viruses. .
Microorganisms are the backbone of all ecosystems, but even more so in the zones where photosynthesis is unable to take place because of the absence of light. Microbial life plays a primary role in regulating biogeochemical systems in virtually all of our planet's environments, including some of the most extreme, from frozen environments and acidic lakes, to hydrothermal vents at the bottom of deepest oceans and human small intestine.
Microbial Ecology is a dedicated international forum for the presentation of high-quality scientific investigations of how microorganisms interact with their environment, with each other and with their hosts.
Coverage includes the ecology of microorganisms in natural and engineered environments; genomic, metagenomic and molecular advances in understanding of microbial interactions; microbial diversity and phylogeny; microbial drivers of biogeochemical processes; inter- and intraspecific microbial communication; ecological studies of human, animal, plant and insect microbiology and disease; microbial processes and interactions in extreme or unusual environments; microbial population, community ecology, technological developments and more.
Types of microbial ecology
Importance of microbial ecology
Organization of microbial community
Fundamentals and applications
Microbial resource management
Global Ecology
Microbe Hunting
Impact of Anthropogenic Pressures
Related Conference of
Microbial Ecology
Microbial Ecology
Conference Speakers
Recommended
Sessions
Related
Journals
Are you
interested

in