Environmental Microbiology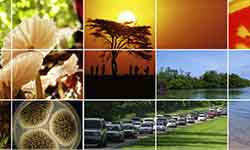 Submit Abstract
Register Now
Microbes are everywhere in the biosphere, and their presence invariably affects the environment that they are growing in. The effects of microorganisms on their environment can be beneficial or harmful or in apparent with regard to human measure or observation.
During seed germination and seed plant growth, the developing plant interacts with a variety of microorganisms present within the surrounding soil. As seeds germinate and roots grow through the soil, the release of organic material provides the driving force for the development of active microbial populations in a very zone that has plant root and surrounding soil in a very few millimetre of thickness. This phenomenon is referred as the rhizosphere effect. Soil microbial communities mediate the decomposition of soil organic matter (SOM). The amount of carbon (C) that is respired leaves the soil as CO2 (soil respiration) and causes one of the best fluxes within the global carbon cycle.
The beneficial effects of microbes derive from their metabolic activities in the environment, their associations with plants and animals, and from their use in food production and biotechnological processes. Also microorganisms attach to surfaces and develop biofilms. Biofilm-associated cells can be differentiated from their suspended counterparts by generation of an extracellular polymeric substance (EPS) matrix, reduced growth rates, and also the up- and down- regulation of specific genes.
Environmental Diversity of Microbes
Environmental Selection Effect
Environmental recycling
Biodeterioration
Biodegradation
Oxygenic photosynthesis
Associations with Animals and Plants
Beneficial Effects of Microorganisms
Production of Foods and Fuels
Related Conference of
Environmental Microbiology
Environmental Microbiology
Conference Speakers
Recommended
Sessions
Related
Journals
Are you
interested

in